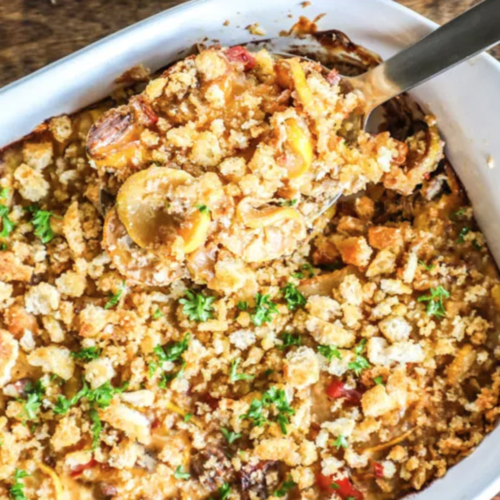 Summer Squash Casserole with Nuts
Prep 30 mins Cook 40 mins Ready In 1 h 10 mins
Ingredients
1

pound

summer squash

sliced

1/4

cup

butter

1/4

cup

chopped green bell pepper

1

tablespoon

white sugar

1/2

cup

chopped onion

1

egg

1/2

cup

mayonnaise

salt and pepper to taste

1/2

cup

shredded Cheddar cheese

1/2

cup

pecans

chopped

1/2

cup

bread crumbs
Instructions
Preheat oven to 350 degrees F (175 degrees C).

Bring a large pot of water to boil. Add squash, and cook until tender. Drain well.

Place squash in a large mixing bowl. Add butter, reserving 1/2 tablespoon, to the squash and mash well. Mix bell pepper, sugar, onion, egg, mayonnaise, salt and pepper, cheese and nuts to the mixture.

Transfer the mixture to a 1-quart casserole dish. Top with bread crumbs. Dot with the reserved butter.Bake at 350 degrees F (175 degrees C) for 35 to 40 minutes.