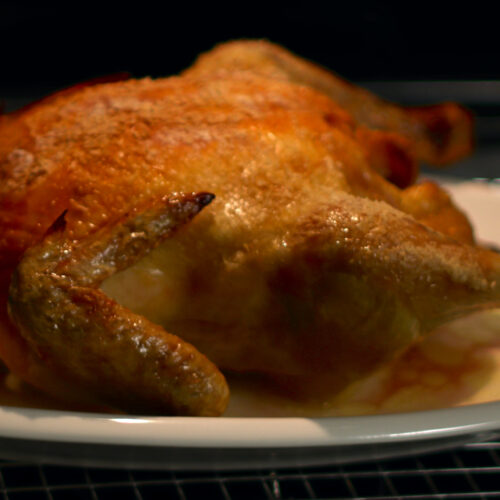 Salted Roast Chicken
This is one of those rare recipes where the name is the same as the ingredient list. You're going to be so shocked at how flavorful, juicy, and amazing this roast chicken comes out.
Ingredients
4

pound

whole chicken at room temperature

3

tbsp

salt, or as needed

1

tbsp

chopped fresh thyme

1

lemon, juiced

2

tbsp

cold butter, cut into four pieces

1

tsp

salt and freshly ground black pepper to taste

1

pinch

cayenne pepper, or to taste
Instructions
Preheat oven to 450 degrees F (230 degrees C)

Dry the outside of chicken with paper towels. Tuck the wing tips underneath the chicken and place into a large oven-safe skillet. Use scissors to snip off the tail, if desired.

Generously sprinkle kosher salt into the cavity and over the back and sides of chicken. Tie chicken legs together with kitchen twine. Sprinkle salt generously over the breasts, coating them thoroughly. Wipe excess salt out of skillet with paper towels.

Bake chicken in the preheated oven until an instant-read meat thermometer inserted into a thigh, not touching bone, reads 160 degrees C (70 degrees C), 50 to 60 minutes. Remove from skillet to a serving platter and let rest 5 to 10 minutes.

Blot about 90 percent of the chicken fat from the skillet with a paper towel held with tongs, leaving the browned bits of food in the skillet. Place skillet over medium-high heat and add thyme leaves. Cook and stir until thyme is wilted, 1 to 2 minutes. Pour lemon juice, chicken broth, and water into skillet, stirring until the browned bits dissolve and the sauce has reduced by about half, 1 to 2 minutes.

Reduce heat to low, add cold butter, and stir until butter has begun to melt. Add any accumulated juices from the chicken to sauce and continue to stir until butter is incorporated and sauce is slightly thickened, about 1 minute. Remove from heat and season with salt, black pepper, and cayenne pepper to taste. Spoon sauce over chicken to serve.
Video
Notes
Per serving: 554 calories; protein 53.7g; carbohydrates 1.2g; fat 35.7g; cholesterol 185.4mg; sodium 4604.2mg