There's no mystery why "Chicken" is one of the most popular recipe searches ever. Everyone loves chicken, but it's easy to get tired of, so we're always on the lookout for new things to try.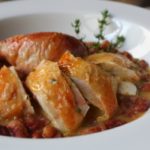 Print Recipe
Salt-Roasted Chicken
When you prep a chicken like this, and roast it in a very hot oven, the bird has no choice but to cook and crisp up in its own juices, which results in very moist, flavorful meat. Thomas Keller, who helped popularize this minimalist method, argues that cooking the thighs/legs as quickly as possible in a very hot oven prevents the breasts from drying out.
Ingredients
1

3-4 pound

chicken

large

3

tbsp

kosher salt

coat the entire surface of the bird, inside and out, with the salt, being extra generous on the breasts

1

tbsp

chopped fresh thyme

1

juiced

lemon

1/3

cup

chicken broth

plus all extra juices from rested chicken plate

2

tbsp

butter

1

tsp

black pepper

to taste

1

tsp

cayenne

to taste
Notes
Of course, no matter how juicy and chickeny your chicken tastes, it can only get better garnished with a little spoonful of thyme butter sauce. I wanted to remind everyone how simple it is to make these quick, butter-based pan sauces. If you know how to make one, you know how to make a thousand.