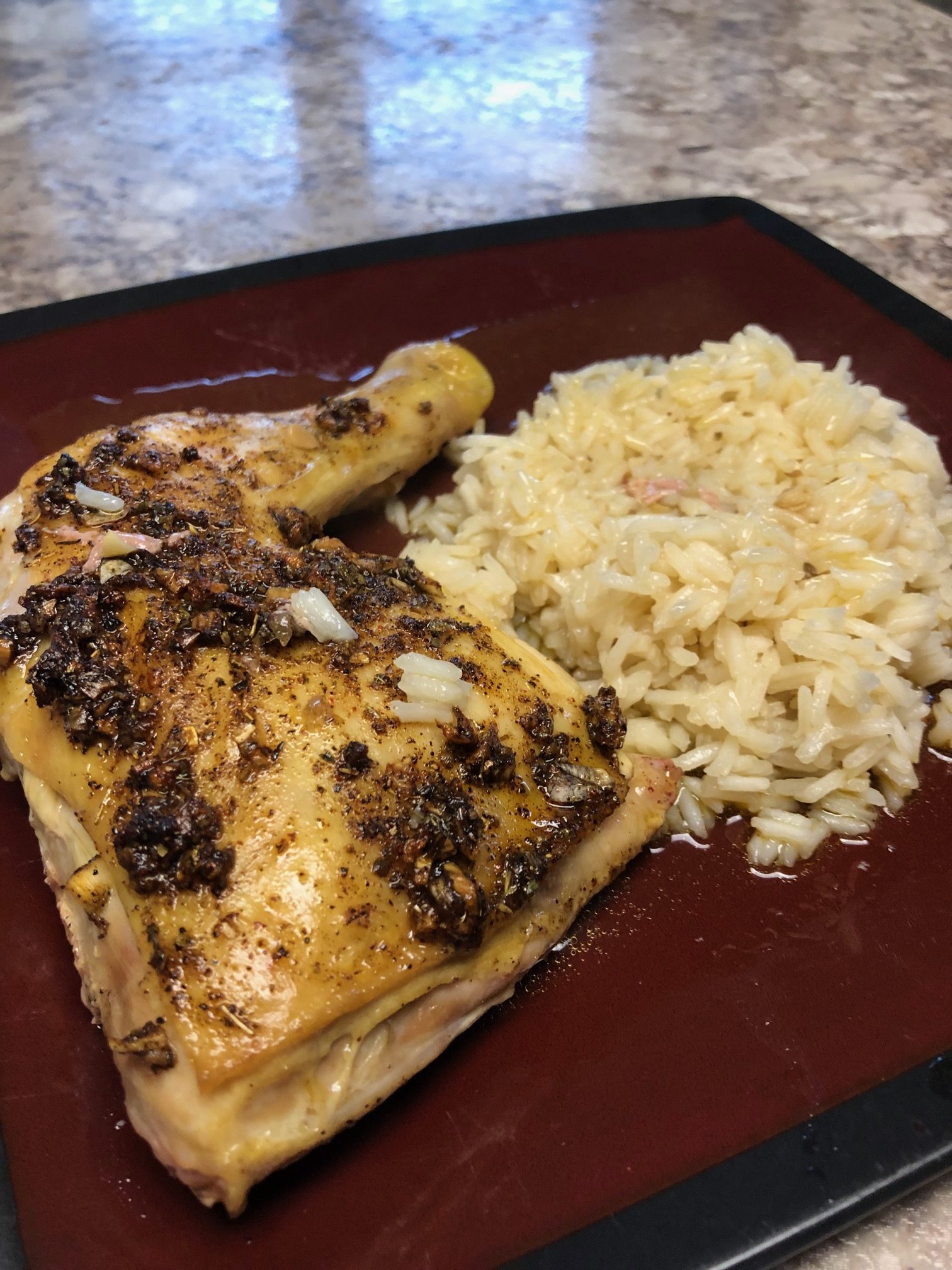 Garlic Roasted Chicken Leg Quarters
Tender, juicy roasted chicken leg quarters are not only easy to prepare and delicious, but they're also easy on the budget. This recipe could also be used with a quartered whole chicken, or use 4 split chicken breasts.
Ingredients
4

cloves

garlic (finely minced)

1

tsp

dried leaf oregano

1/2

tsp

kosher salt

1

tsp

chili powder

1/4

tsp

ground cumin

1/3

tsp

freshly ground black pepper

2

tbsp

extra virgin olive oil

4

chicken

leg quarters

1/2

cup

chicken broth

(part dry white wine, if desired)
Instructions
Preheat the oven to 425 F. Lightly oil a 9-by-13-by-2-inch baking dish or line it with foil.

Combine the garlic, oregano, salt, chili powder, cumin, and black pepper in a small bowl. Add olive oil and mix well. Use a mortar and pestle to make a paste consistency, or mash it with a fork.

Snip off any excess skin and fat deposits. Arrange the chicken pieces in the prepared baking pan and rub the garlic mixture over each piece.

Pour 1/2 cup of chicken broth into the baking dish. If desired, use 1/4 cup of dry white wine with 1/4 cup of chicken broth.

Bake the chicken in the preheated oven for 40 to 50 minutes, or until the chicken registers at least 165 F on a food thermometer.
Notes
To check for doneness, insert an instant-read food thermometer into the center thickest piece of chicken, not touching bone. According to foodsafety.gov, poultry must be cooked to a minimum of 165 F.
Use the recipe with drumsticks for a Super Bowl gathering or tailgating. Roast the chicken and serve it warm from a slow cooker.
Omit the chili powder and ground cumin. Decrease the salt to 1/4 teaspoon and add 1 1/2 teaspoons of Cajun or Creole seasoning to the oil and garlic mixture. 
Substitute melted butter for the olive oil.
Cut up about 1 1/2 to 2 pounds of potatoes (or very small or fingerling potatoes) and 2 to 3 carrots, toss with a few tablespoons of olive oil, and arrange the vegetables around the chicken pieces. Roast until the chicken is done and potatoes are tender.