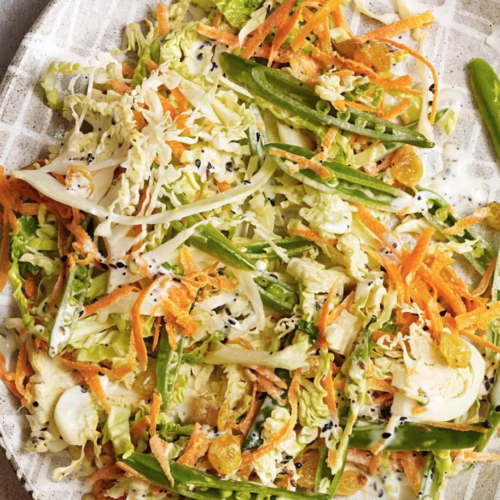 Classic Coleslaw with Attitude
Lots of crunchy, aromatic seeds and the pungent agrodolce bite of quick-pickled raisins elevate this coleslaw recipe from plain to brilliant. If you're bringing it to a party, make sure to save some at home for yourself. You'll want to put it on sandwiches and salads, or serve it alongside pork chops. Anna Thomas
Ingredients
Pickled Raisins

½

cup

golden raisins

⅓

cup

cider vinegar

⅓

cup

water

2

tbsp

whole cloves

Slaw

10

cups

thinly sliced cabbage

from 1 small head

3

medium carrots

shredded

2

cups

thinly sliced sugar snap peas

about 6 ounces

1 ¼

teaspoons

salt

½

cup

mayonnaise

3

tablespoons

lemon juice

1

tablespoon

sugar

2

teaspoons

black sesame seeds

½

teaspoon

caraway seeds

½

teaspoon

fennel seeds

½

teaspoon

poppy seeds

¼

teaspoon

aniseed

¼

teaspoon

celery seeds
Instructions
To prepare pickled raisins: Combine raisins, vinegar, water and cloves in a small nonreactive saucepan. Bring to a boil. Reduce heat and simmer for 2 minutes. Remove from heat and let stand until cool.

To prepare slaw: Meanwhile, combine cabbage, carrots and snap peas in a very large bowl. Sprinkle with salt and gently toss to combine.

Whisk mayonnaise, lemon juice, sugar, sesame seeds, caraway seeds, fennel seeds, poppy seeds, aniseed and celery seeds in a small bowl. Pour the dressing over the slaw and mix well. Cover and refrigerate for at least 30 minutes or up to 1 day.

Drain the raisins (discard the liquid); add to the slaw and toss.
Notes
Nutrition Facts
Serving Size: about 3/4 cup Per Serving: 117 calories; protein 1.8g; carbohydrates 12.4g; dietary fiber 2.7g; sugars 7.9g; fat 7.4g; saturated fat 1.2g; cholesterol 3.9mg; vitamin a iu 2765.7IU; vitamin c 32.5mg; folate 35.9mcg; calcium 48mg; iron 0.9mg; magnesium 17.7mg; potassium 234.8mg; sodium 323.3mg; thiamin 0.1mg; added sugar 1g. Exchanges:
1 vegetable, 1/2 fruit, 1 1/2 fat